Electric Daisy Carnival 2011
Las Vegas Motor Speedway  –  Las Vegas, NV
Friday June 24th, Saturday June 25th, Sunday June 26th 2011
8pm – 7am Daily  /  18+
EDC 2011 PHOTOS
Rukes //  housemusicessentials //  wanticketsblog //  rollingstone
EDC 2011 //  lasvegassun //  lasvegasweekly //  vegasnews // vegasnews2
Holy Mountain //  usdubstep // spyonvegas //  Steve Angello
Caesar Sebastian  //  Flickr  //  Field of Noise
EDC 2011 DJ Sets
Live Sets from Electric Daisy Carnival Las Vegas 2011
Laidback Luke – Live at Electric Daisy Carnival 2011 26-06-2011
Paul Oakenfold – Live at Electric Daisy Carnival (Las Vegas)
LA Riots Live @ EDC Las Vegas
Ferry Corsten – Live at Electric Daisy Carnival (Las Vegas)
Hardwell – Live at Electric Daisy Carnival (Las Vegas)
EDC Vegas Day 1 sets
EDC Vegas Day 2 sets
EDC Vegas Day 3 sets
EDC Vegas 2011 Live Sets
EDC 2011 Videos
8News
Markus Schulz Opening @ EDC LV 2011
Las Vegas EDC June 26 2011 Swedish House Mafia
SKRILLEX – Hold on/ Mash Mix at EDC 2011 6/25/11
EDC 2011 Ticket Prices
$180 – $200 3-day pass  //  $75 – $100 1-day pass
$500 3-day VIP and $200 for Single Day

kineticFIELD


cosmicMEADOW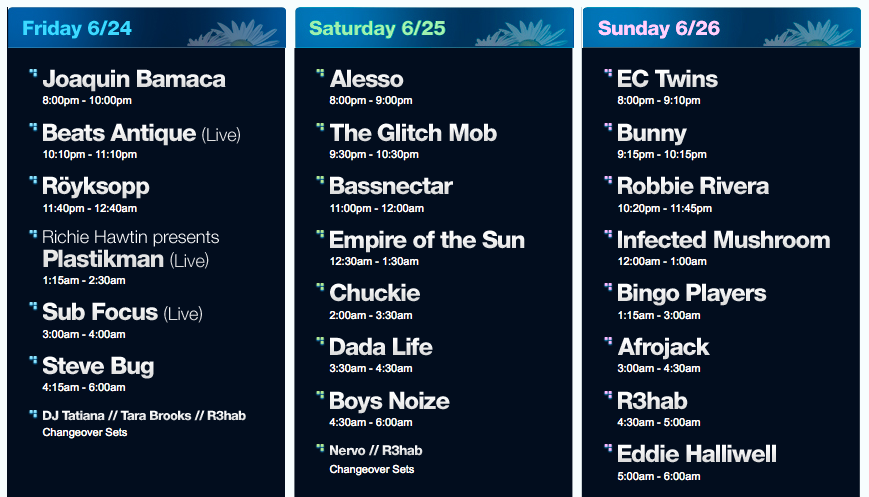 circuitGROUNDS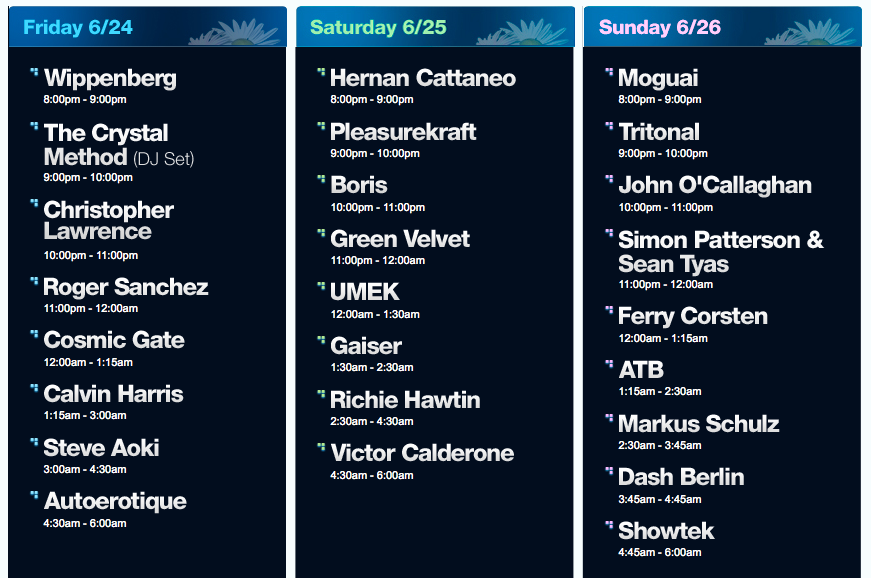 neonGARDEN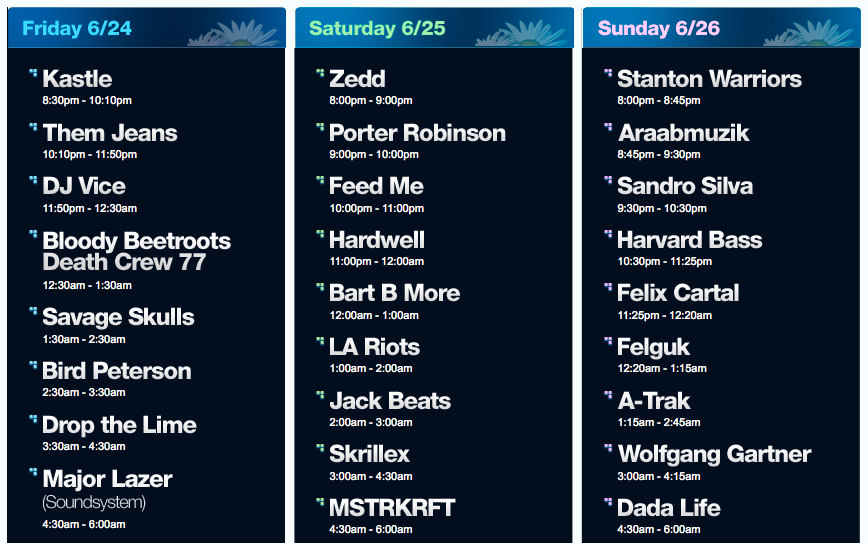 bassPOD


heinekenDOMES

• Mass gathering ready! Venue was built to accommodate over 100,000 people per day.
• Dusk till dawn each night! EDC's wide variety of visual entertainment comes alive at night. We will now be able to utilize every minute of darkness.
• 40,000 FREE parking spaces
• Access for all to stadium seats for a spectacular view of the entire festival.
• All attendees will have floor access to all 6 stages.
• Tons of carnival rides to enjoy at no extra cost!
• Cooling off zones. There are 5 huge air conditioned areas.
• 200′ X 500′ Misting Tent. Guiness World Records has been notified.
• Less restrictive pyrotechnic regulations. We can use a much bigger caliber of fireworks and effects.
• World renowned and convenient destination for travelers.
Las Vegas Motor Speedway [CONFIRMED]


Reports surfaced today confirming thatElectricDaisyCarnival2011will be held at the Las Vegas Motor Speedway. Located in Clark County, Nevada, the Las Vegas Motor Speedway is a 1200 acre complex with multiple tracks… [Examiner.com]
Today, Los Angeles-based Insomniac announced they are postponing the 14th annual Electric Daisy Carnival, scheduled to be held at the Los Angeles Memorial Coliseum. Electric Daisy Carnival will debut in Las Vegas on June 24 and 25, 2011.
Insomniac Announces Electric Daisy Carnival to Debut in Las Vegas on June 24 and 25, 2011
Postpones Electric Daisy Carnival 2011 in Los Angeles
L.A. Coliseum and Sports Arena Parties… Could be Done For Good
David Israel, L.A. Coliseum Commission's Top Official, Says No to Electric Daisy Carnival Rave
Raves: Coliseum Commissioner Rick Caruso Says Rave Ban Back on the Table, Electric Daisy Carnival Still up in the Air
Similar Posts: