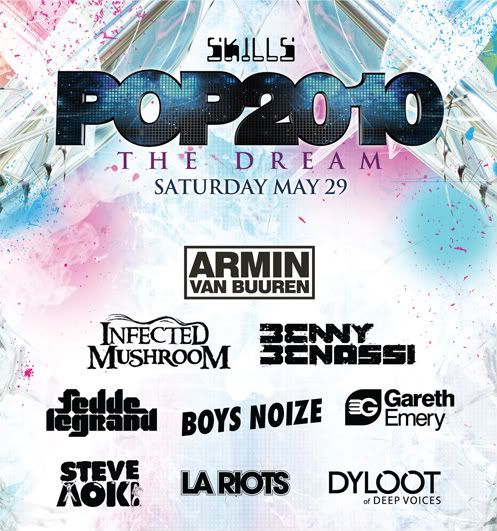 ///////// POP "The Dream" turned into a nightmare and then death for one Santa Clara partygoer, Anthony Mata, 23.
Police say Mata was one of at least eight people, ranging in age from 17 to 28, who got extremely sick after ingesting the party drug ecstasy.[abc]
So what was the problem here? Bad drugs, extreme heat or a simple overdose? Even to a sober person the Cow Palace was extremely hot inside, with the main dance floor doors shut closed people were shoved into exiting to small side corridors. It's great that SKILLS is working with local police to crack down on dealers but what about their patrons that paid up to $75.00 to enter the party. Could they not afford proper ventilation?
////// Our prayers go out to the families of Anthony Mata.

etd.POP2010 THE DREAM
Saturday, May 29th, 2010 / 13th Annual etd.POP

Cow Palace
Daly City, CA
4:00 PM – 2:00 AM
Lineup / TimeSlots
ARMIN VAN BUUREN (11:30) / INFECTED MUSHROOM (1am)
BENNY BENASSI (9:30) / FEDDE LE GRAND (10:30) / BOYS NOIZE
GARETH EMERY / STEVE AOKI / LA RIOTS (5pm) / DYLOOT
Similar Posts: