Swedish House Mafia Breaks Up / Axwell / Steve Angello / Sebastian Ingrosso
All we can say is WTF?!? Swedish House Mafia is over? done? gone? According to the groups website final tour dates will be announced soon. No official word that the group will cease or stop producing track just that this will be the last tour. Could this be a big publicity stunt? Maybe, on the verge of becoming the #1 dj group in the world, not just the EDM world, they toss it in the garbage? As single DJs Axwell, Steve Angello, and Sebastian Ingrosso can command a crowd but never as big as Swedish House Mafia.
There have been rumors that the group is throwing the towel in because of growing rants about the "fakness" of their DJ sets, who knows? But the next question is who will fill their shoes? I'm sure will start to see countless trios start to form in hope of becoming the next Swedish House Mafia.
Why Swedish House Mafia Broke Up
I think we felt like it had become a very big machine. I think the pressure … It just wasn't having fun anymore. It was this humongous monster. We felt like tired. Swedish House Mafia was never something planned, it was just like, we're three guys, let's do this and have fun and throw parties and have a blast. So we just thought, "You know what? Let's end this." – Steve Angello [huffingtonpost]
Straight from the trio's website itself here is what the EDM kings had to say;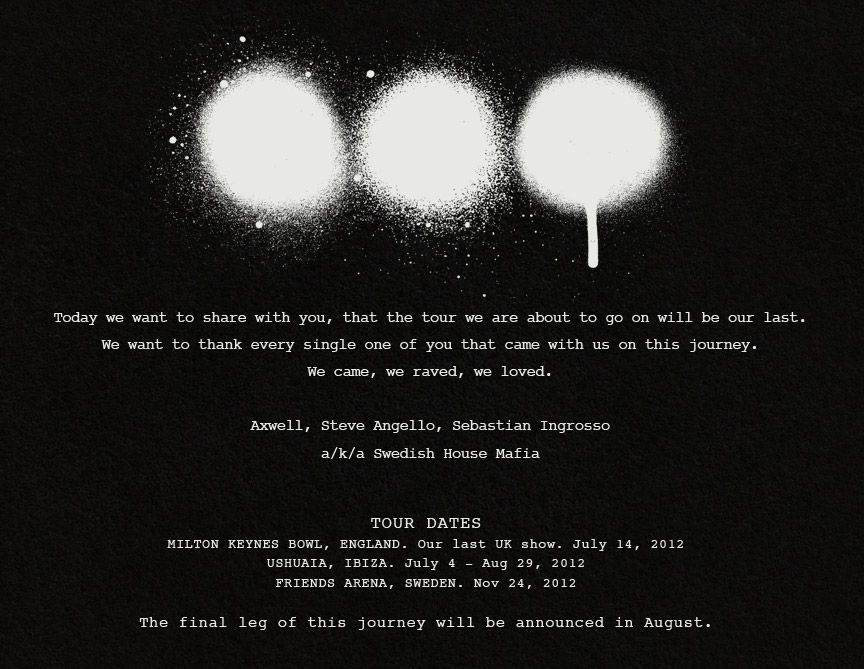 Similar Posts: