Greatest DJs Of All Time? / Top 10 / MixMag / 2011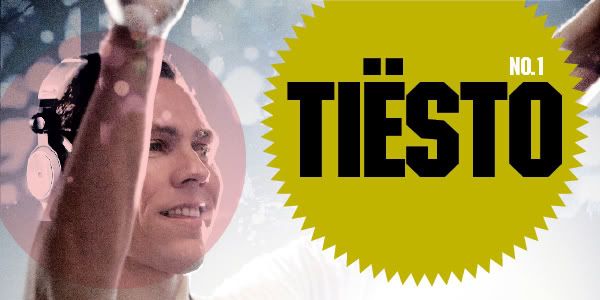 Whos is the greatest DJ of ALL TIME!?!?!? That's a pretty amazing title to snag up but MIXMAG think they have it by casting out a dancers vote four months ago and calculating it just right. And who did the gold headphones go to? Tiesto.
1. Tiësto
2. Richie Hawtin
3. Sven Väth
4. Andy C
5. Carl Cox
6. Ricardo Villalobos
7. Paul van Dyk
8. Sasha
9. Tony De Vit
10. 2ManyDJs
////////// The biggest dance magazine in the world, MIXMAG, takes on the biggest poll to date. The Greatest DJ of All Time. That's a HUGE title to carry and a honor there are 35 nominees each selected by another noted DJ. Who is worthy enough to hold the crown? VOTE to make it happen!!
Full list of nominees for 'Greatest DJ Ever'
2ManyDJs (selected by Jaymo and Andy George)
Alfredo (selected by Danny Rampling)
Andrew Weatherall (selected by Erol Alkan)
Andy C (selected by Sub Focus
Carl Cox (selected by Yousef)
David Mancuso (selected by Dany Krivit)
Derrick Carter (selected by Raf Rundell of Two Bears)
Eddie Halliwell (selected by Judge Jules)
Erick Morillo (selected by Sebastian Ingrosso of Swedish House Mafia)
Erol Alkan (selected by David Dewaele of Soulwax / 2ManyDJs)
Fabio & Grooverider (selected by Technicolour)
Fatboy Slim (selected by Hervé)
Felix Da Housecat (selected by Kris Menace)
Francis Grasso (selected by Frank Broughton)
Francois Kevorkian (selected by Mala)
Frankie Knuckles (selected by Terry Farley)
Grandmaster Flash (selected by Niall Dailly of Jack Beats / Scratch Perverts)
Hatcha (selected by Artwork)
Jazzy Jeff (selected by A-Trak)
Jeff Mills (selected by Slam)
Jimmy Saville (selected by Bill Brewster)
Kool Herc (selected by Dominic Butler of Stanton Warriors)
Larry Levan (selected by Arthur Baker)
Laurent Garnier (selected by Layo Paskin of Layo and Bushwacka!)
DJ Marky (selected by Smithy of Total Science)
Optimo (selected by Mylo)
Paul Oakenfold (selected by Above & Beyond)
Paul van Dyk (selected by Gareth Emery)
QBert (selected by DJ Yoda)
Ricardo Villalobos (selected by Craig Richardson)
Richie Hawtin (selected by Seth Troxler)
Sasha (selected by James Zabiela)
Sven Vath (selected by Loco Dice)
Tiesto (selected by Sander van Doorn)
Tony De Vit (selected by Fergie)
Similar Posts: